Discover more from Abracadabra Dept
A Cinematic See Also by Kate Jinx – a fortnightly newsletter detailing what I'm watching / reading about watching / what the watching reminds me of
Abracadabra Dept. 1
News from home
I'm calling this a 'cinematic see-also' – a connect-the-dots with film as the first dot, leading off into who knows what. Keeping this first one loose so that it can form into what it will organically be. For the L Word affiliated, think of this is as a cinematic 'Our Chart', where every sexual encounter leads back to Shane, but Shane is a movie.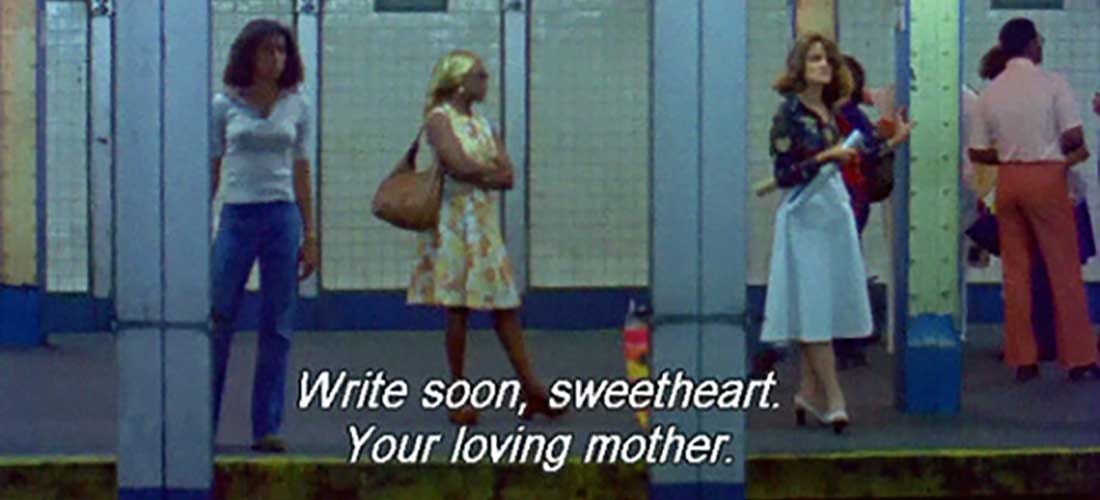 Every time I go back to New York, I'm reminded of Chantal Akerman's News From Home (1976), but never more so than this past October when summer was dragging its heels, not realising it was staying too long at the fair. Akerman, whose work is having a sudden and suspiciously filmbro renaissance, cruises Manhattan with her camera – near empty streets, bustling subway stops, diners and donut shops – while letters from her mother are read over the top. When I was living there, I'd receive similar letters from my own mother via email, asking me to write more, reminding me that I had another home but she'd understand if I wanted to stay in this new one. This was the first trip without her around to send me that news from home but I thought of her as I roamed my favourite streets, much less grubby than those depicted by Akerman, but grubby in a new way that is harder to verbalise.
See Also: Nicola Smith's beautiful painted translations of film stills from Akerman's Toute une nuit (A Whole Night) from 2017 (and while you're at it her Claudia Weill's Girlfriends series too).
Read Also: Sarah Schulman's book Gentrification of the Mind: Witness to a Lost Imagination (2012).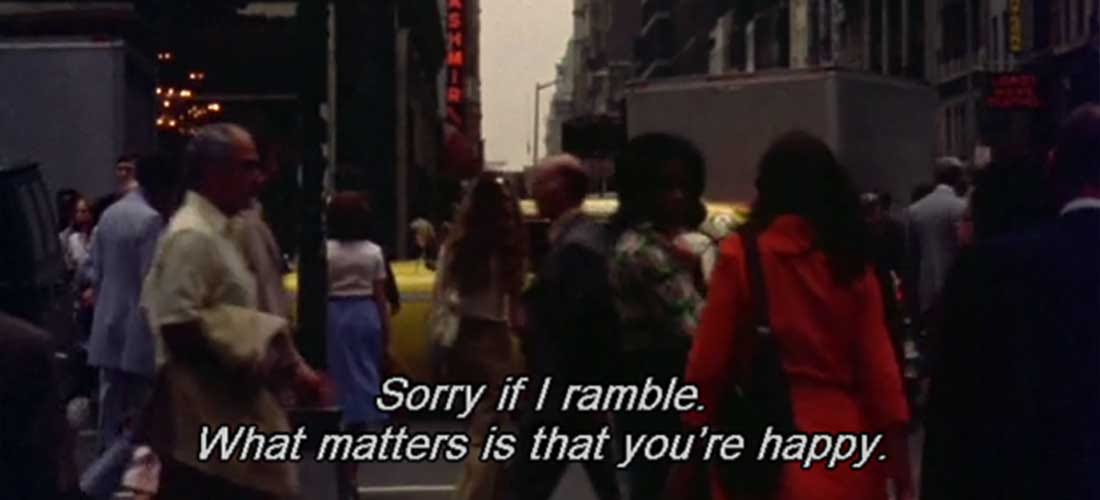 I was there to attend the New York Film Festival, which happily coincided with the tour schedule of my partner's show. We stayed in Chinatown for the first week, and I'd sprint over to the Lincoln Center most mornings, either forgetting my lanyard or enough cash for a concession stand coffee (one of my least favourite topics of conversation is how bad or good coffee is in New York, it's FINE). I was there to scope out new films but also managed to sneak in repeat viewings for a few 2019 favourites – Pedro Almodóvar's Pain & Glory, and Celine Sciamma's truly-we're-not-worthy Portrait of a Lady on Fire. The film I was most fanging for was Kelly Reichardt's First Cow. It's like if Old Joy had been run through a Meek's Cutoff time machine: an unlikely friendship between two men, travellers eking out a life in 1820's Oregon. I loved it. At the press junket afterwards, Reichardt talked about the titular cow, and working with dogs on set. She lambasted the use of trained animals – the cow was selected via headshot, no joke – describing them as "treat machines" and "treat whores". I loved that. I am a treat machine for Reichardt.
Listen Also: Yo La Tengo's album They Shoot, We Score – a compilation of songs they've made for films including Old Joy. Perfect writing music. Apple Music | Spotify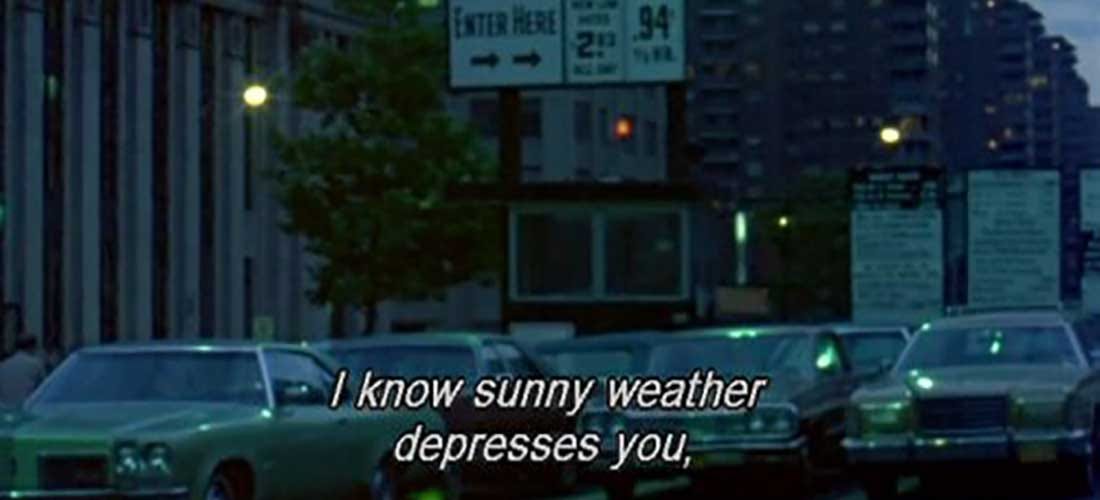 Another film I caught was Noah Baumbach's Marriage Story (which, if you can see it in a cinema, do so), followed by a junket with director and cast. Laura Dern came dressed like an advert for Autumn, a head-to-tie pile of leaves, a red-and-gold version of Marjorie from Fraggle Rock. An opportune moment here to recommend re/watching her in the TV show Enlightened, which is up there in the heaven telly category with The Comeback. Because I've written about Marriage Story elsewhere, instead let's talk about Stephen Sondheim's Company. Or, to be more accurate, DA Pennebaker's 1970 documentary Original Cast Album: Company about the recording of the musical's soundtrack (two of its songs feature in Baumbach's film). Referenced lovingly in the Documentary Now comedy series, it's infamous for an Elaine Stritch stretch where everyone becomes increasingly irritated about her not quite hitting the heights of showstopper Ladies Who Lunch, but no one more so than herself. She angrily rakes her hands through her electrified hair, standing in an oversized mens shirt and signature look of 'no pants' at the end of a long night. Still a great look. One of my closest friends lives about four minutes walk away from me and sometimes we message each other before meeting to do an outfit check. Next time I'll just text him: "no pants".
Read About Almost Reading Also: Elaine Stritch —> classy fav, Bemelman's Bar in the Carlyle Hotel where she used to live —> Eloise famously lived in the nearby Plaza Hotel —> connects to the great tragedy that Gaby Hoffman's Warhol superstar mother Viva wrote her own Eloise-style book about their hotel-living called Gaby at the Chelsea that remains unpublished.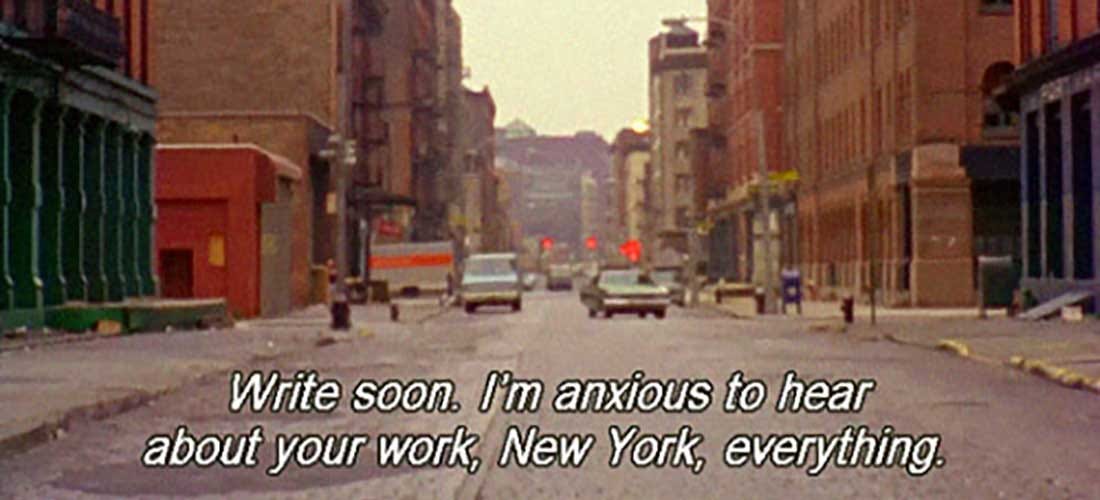 ---
The 'get out of the house' section 


✺ Sydney: 

Séance on a Wet Afternoon

 at AGNSW or 

Elements Rising zodiac film series: 

Cruel Intentions

 + tarot 

at Golden Age Cinema
✺ Melbourne – 

Indigenous Legacies: The Documentaries of Ivan Sen

 at Melbourne Cinematheque
✺ New York – 

Recorder: The Marion Stokes Project

 featuring Q&As with director Matt Wolf at Metrograph
✺ Los Angeles – 

UCLA Student Films at UCLA : 1960s

 at UCLA
✺ London – 

Atlantics

 + Q&A with director Mati Diop at the Barbican
The 'you send my mother your clippings?!' section


✺ I chatted to Sophie McComas & Sophie Roberts on their excellent 

Highly Enthused

 podcast about summer films last week
✺ Am talking 

The Irishman

, 

Pain & Glory

, and 

Marriage Story

 on 

The Mix

 (ABC TV) this weekend
✺ Will be hosting director Kore-Eda Hirokazu's (

Shoplifters

) at his live intro screenings of new film 

The Truth

 this Sunday 17 Nov in Sydney, if you're around?
Kate Jinx is a writer, critic and film curator. She is the Director of Programming at Sydney's Golden Age Cinema & a houseplant enthusiast ♡ Instagram & Twitter